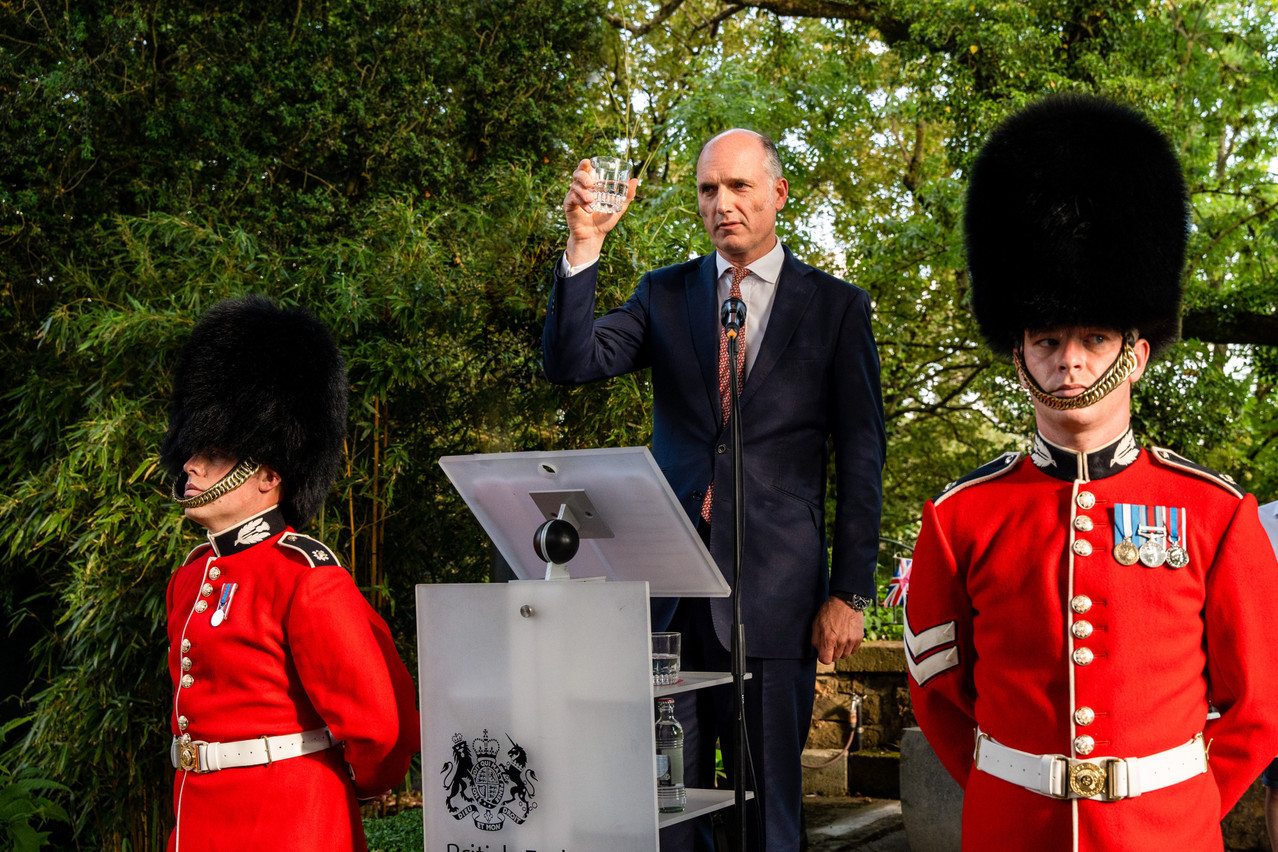 UK hails "enduring friendship" with Luxembourg
19 June 2023
The British embassy in Luxembourg on 15 June celebrated the birthday of King Charles III, with ambassador Fleur Thomas and the UK's minister for Europe, Leo Docherty, praising the ties between the two countries at a garden party.
Docherty was in Luxembourg for a two-day visit following the signing of a bilateral cooperation agreement last month, which the minister said the countries would now "take forward."
During his visit, Docherty meet with foreign minister 
Jean Asselborn (LSAP), with a read-out of the meeting saying that the financial sector, research and youth mobility were on the agenda together with discussions on the war in Ukraine and the upcoming Nato summit in Vilnius.
Luxembourg, Docherty said during the embassy reception, is a "beacon" for many of the causes supported by King Charles III, including a diverse and tolerant society, as well as the environment and sustainability.
The grand duchy, he said, is a "responsible and committed actor on the world stage" and after having spent a bit of time in the country, he said he understands how people come to Luxembourg and then never leave. "It's such an amazing place."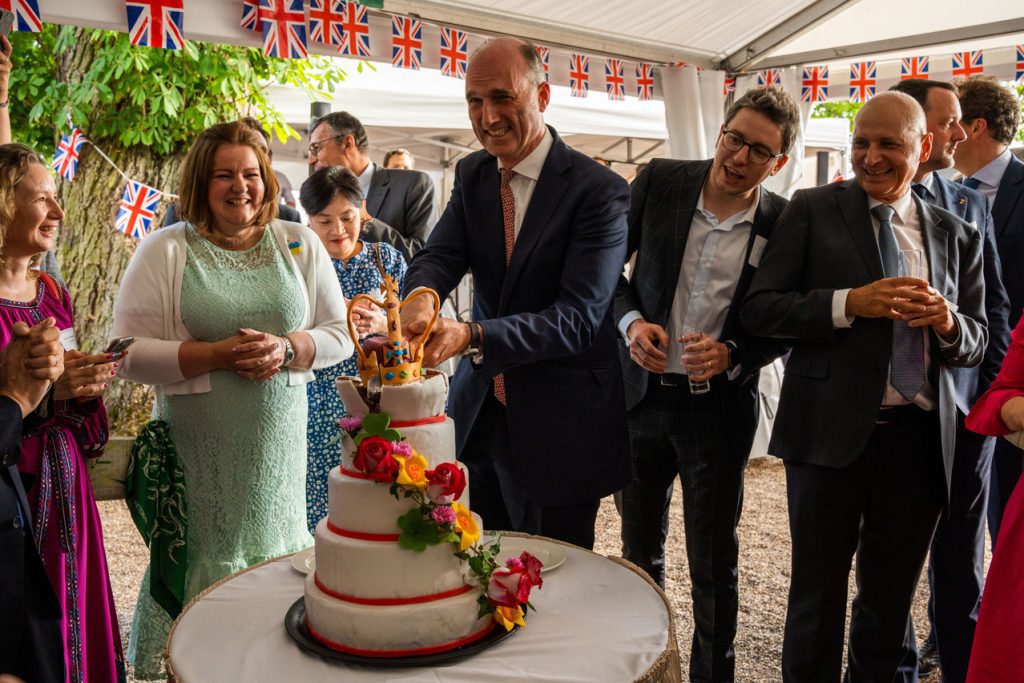 In "unstable and fast-evolving times," Docherty said it is important to defend shared values.
The embassy had invited a refugee pâtissier from Bucha in Ukraine to make the desserts for the reception and 

Thomas during her speech welcomed Nicolas Zharov and Inna Yaremenko from LUkraine. "You carry on your shoulders the burden of this war," she said of the organisation's work to support victims of the conflict in Luxembourg and Ukraine.
Thomas paid "tribute to the enduring friendship between our two nations" during her toast.
Official birthday
Not unlike Luxembourg's grand duke, the UK monarch gets to celebrate two birthdays–his real birthday on 14 November and an official celebration in June, with a parade–also known as Trooping the Colour–hosted on 17 June this year.
The celebration in Luxembourg was more somewhat more modest but two Scots guards were at hand at the embassy in full uniform, despite the warm summer weather.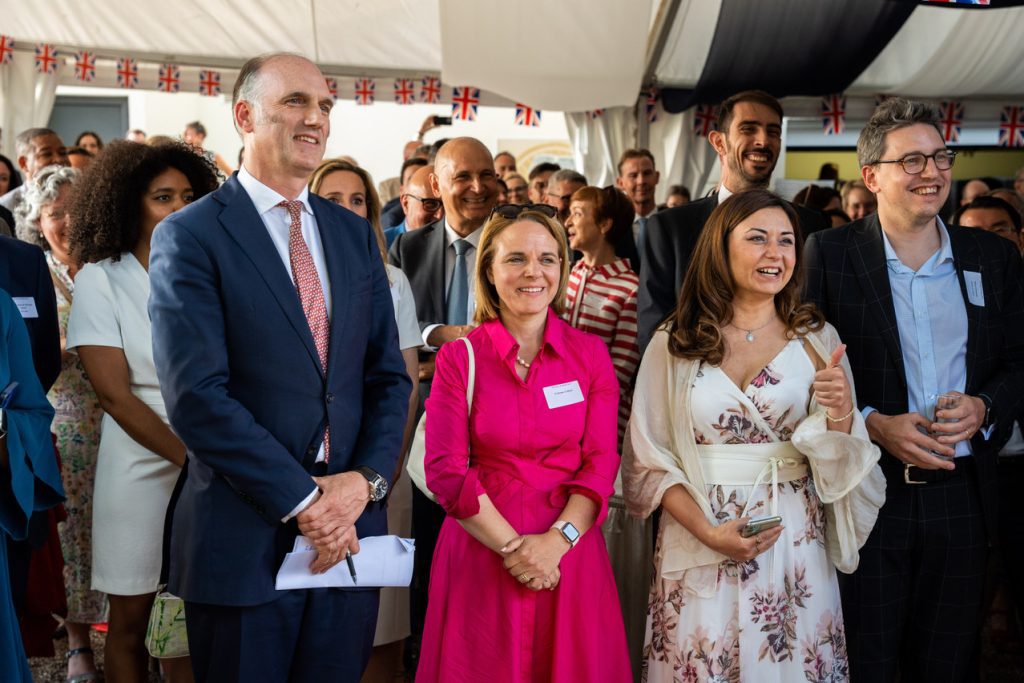 Ambassadors from Austria, Belgium, Czech Republic, China, Japan and Turkey, members of parliament, representatives of the state council and the government, piled into the residence garden, together with the British business community in Luxembourg and numerous societies and NGOs.
Environmental group Natur & Ëmwelt was on site with a stand in honour of the king's interest in nature protection and conservation. The embassy has installed bird nesting boxes around the garden, the ambassador said, and the first blue tits have taken residence.