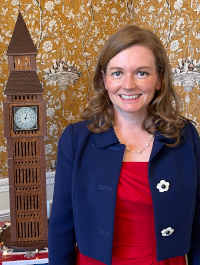 We are delighted to announce that President Jean-Claude Juncker will be our guest speaker at the Sir Winston Churchill Memorial Lecture on Monday 30 May at 6pm at the Abbaye Neumunster.
If you are not yet a member please do join the Society so that you can be part of this momentous event. As a member you can also enjoy our Summer cocktail at the Residence of the Embassy on 12 July.
Other 75th anniversary events include the Jubilee poetry competition about the Queen's Jubilee.
We have a History talk later in the year on the UK's diplomacy's part  in Luxembourg history and a history tour of the Abbaye Neumunster in advance of our Churchill Memorial Lecture.
We have numerous other events lined up including a fascinating trip to London to explore backstage and out of bounds for tourist sights.
A Gala dinner will round off the year and a few other art and cultural events will be advised shortly.
Louise Benjamin, President of the British-Luxembourg Society