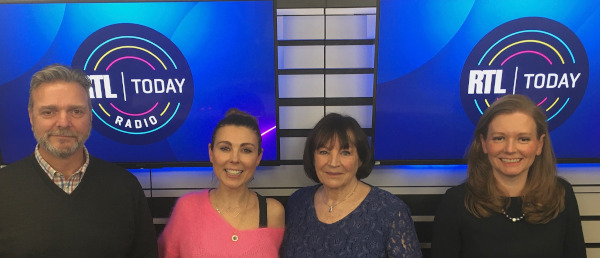 BLS – In conversation with Lisa Burke
19 March 2022
On Friday 18th March the BLS launched its programme to celebrate its 75th anniversary.
Louise Benjamin , Darren Robinson and Jacqui Spence were guests of Lisa Burke on the new RTL English Radio Channel.
Jacqui Spence traced the early history of the Society, its formation in 1947 as a mark of gratitude to the United Kingdom for all the support during the war. One of its first actions was to raise funds to erect a statue of Winston Churchill in the capital, now situated on the Place Winston Churchill in the city centre. Due to the generosity of donors the excess funds went to establishing the Churchill Memorial Lecture.
The Society developed a wide range of social and cultural events which have continued to this day. These included the foundation of an English Language library, English Language classes, concerts, art exhibitions and other social events.
Darren Robinson described how after a few years when many of the society's activities went into abeyance, the Brexit vote galvanised the British Community in Luxembourg to show how much they valued the shared friendship between Luxembourg and the United Kingdom . With the invaluable help of the then Ambassador John Marshall, the Council was reinvigorated under the wise leadership of its President, the late Jacques Losch and as we approach the 75th anniversary the Council is full of enthusiasm for the future.
Louise Benjamin, the current and first woman President of the Council outlined the exciting programme for this anniversary year.
The first event will be a talk by Jessica Spence on "Navigating a Global Career"- on the 29th March. Jessica grew up in Luxembourg, but has made a global career having grown up in the multi-cultural environment of Luxembourg , to which she attributes much of her passion for working with people from diverse cultural and linguistic traditions.
The Flagship event of the year, the Sir Winston Churchill Memorial Lecture follows on the 30th May. To mark this significant milestone the Society has been very fortunate to be able to introduce President Jean Claude Juncker as the key speaker. President Juncker has for many years been a leading European statesman. We are delighted he has accepted to speak at this important event.
Other events will include a summer reception at the residence of the British Ambassador, an academic lecture on the history of Luxembourg and its relations with the United Kingdom to be given by Professor Guy Thewes, a poetry competition to celebrate the Queen's Platinum Jubilee and a trip to London in the autumn.
The celebrations will close with a gala dinner at the Château de Bourglinster in October.
Please check our website and Facebook pages for full details, we hope to welcome many of our members over the year.
Listen to an edited version of the interview with Louise, Jacqui and Darren by clicking the play button under the image above.