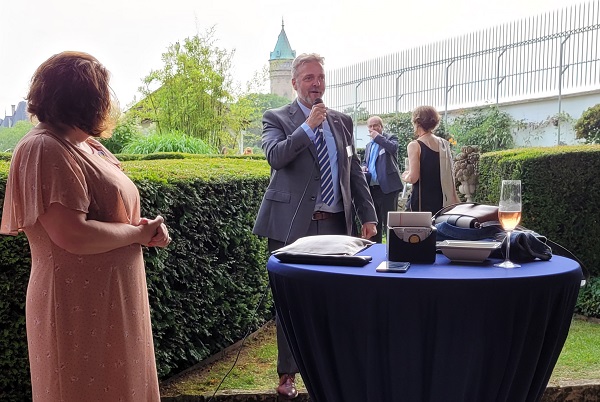 150+ BLS Members Come Together for Live Music, Drinks & Art at Summer Reception
30 June 2023
On the evening of Thursday 29 June 2023, over 150 members (old and new) of the British-Luxembourg Society (BLS) gathered at the British Ambassador's Residence in Luxembourg-Ville for the BLS Summer Reception.
This event served as an opportunity for BLS members (particularly new members) to get to know each other, whilst enjoying live music by violinist Vincent Soubeyran and guitarist Jacopo Lombardi (Jalo Sounds), as well as finger food and drinks.
In addition to networking and taking in the view of the Pétrusse Valley from the residence gardens, many attendees received a unique memento of the event in the form of paper silhouette portraits. The BLS had invited the UK-based artist, Sarah Head, to Luxembourg exclusively for this event. She has been performing this unique art form, including for famous actors artists and members of the British royal family, since 1999.
In his welcome speech, BLS President Darren Robinson thanked everyone for coming together to once again celebrate British and Luxembourgish culture. He noted that the society now has some 400 members of different nationalities (not only British and Luxembourgish). He thanked the BLS team and the event sponsors, as well as the British Ambassador to Luxembourg, Fleur Thomas, for hosting this event.
Ambassador Thomas praised the efforts of the BLS team in injecting new life into the society, which had been "waning" in recent years. She noted that it was "great to see it flourishing today" and thanked those involved in its success.
For her part, BLS Vice President Jacqueline "Jacqui" Spence called for a moment of reflection, in the context of the seventh anniversary of the Brexit referendum which was "a painful moment for many" but which also gave BLS "an incredible injection of life and purpose". She recalled the society's mission of building bridges between the UK and Luxembourg. Jacqui noted the challenges of the COVID-19 pandemic which saw in-person events come to a halt, but noted that 2022 was special for the BLS as it celebrated its 75th anniversary. It was, however, a "bittersweet" year, with Russia invading Ukraine in February and Queen Elizabeth II passing away in September. Such events "cast a shadow on what should have been a joyous year".
Jacqui added that the main event so far this year had been the community celebration of the coronation of King Charles III in May. The next big event for BLS is its traditional Sir Winston Churchill Memorial Lecture, with Baroness Hale, on 20 November 2023.
The speeches were followed by toasts to both the UK's King Charles III and Luxembourg's Grand Duke Henri.
The rain held off for most of the evening, although the canopies set up in the residence gardens served their purpose when the weather turned slightly stormy towards the end of the event.